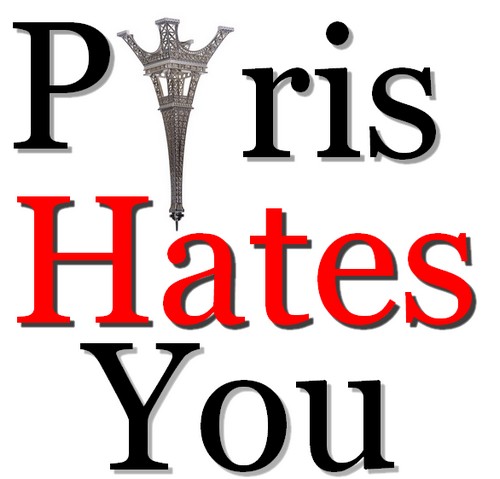 Does Paris like tourists? In fact Paris HATES tourists… Paris is a city where people change it to a place that traps tourists, that tricks tourists. Paris is not a city for tourism (unless they speak french fluently and have weapons of mass destruction).
This is a topic for every foreigner, who would like to visit France for Paris. I will explain what you will really find in Paris, and why Paris is an unpleasant place to go. You might have your head full of dreams: Paris city of love, Paris city of arts. But, what I will tell you is the things tourism's agencies, advertisement, TV show, movies, hide from you. You will find in this topics, what you might experienced if you come to Paris.
What I will tell you is only what I have experienced after several years experiencing Paris. I'm living near Paris for more than 10 years, and welcome there one or twice a year friends from foreign countries: Japan, China, Korea, Germany, USA, Hungary, Nederland. And for each visit, I'm guiding them in Paris to help them to avoid tricks, robbery, thieves, and so on. What I will tell you right now, is what they have experienced in Paris, what they (and I) weren't aware of, and the reason why they (and I) were disgusted. None of my friend will ever come back to France because of what happend to them there. And they told their friends and families to avoid France for vacation. There are place which are much more nice to tourists all over the world. Paris city of love, Paris city of arts, you might not find neither love nor arts in Paris the way you imagine.
When you will arrive in Paris by plane, you might come to Orly or Roissy's airport. If you are lucky, you will get out of the plane on time. If not, you might need to wait for some time, because the people who are in charge of opening the plane, might have been late for work, or might have forgotten to wake up (yes, really it was a reason invocked)… or simply, might be on strike (typically french). You might have to wait for your luggages too, because people who get your luggage are often on strike. If your luggages are scratch, don't be shocked it's usual. People who work in France don't do it for pleasure, and to let their frustration out, they are far from being cautious with someone else's belonging.
Then you have finally your huge and heavy luggage with you. You might need some informations from members of airport team, to buy some electric converter, or have informations about your trip. Then you will start a game: hide and seek. Try to figure out who is the only one person who can speak english, and where he is hiding. International airport? Nobody speaks english… you are in France now… One of my friend asked a guy in a shop to have a converter from an apple's american plug for french socket. What he got was an USB plug  for Samsung… Was it english spoken the problem? Or was the shopkeeper unskilled?
Ready to leave the airport you might want to take a RER B to Paris. With your heavy luggage you have 90% chance to carry it yourself since elevator and/or escalator are often out-of-order. It happens to me each time I come back to France. With RER B, you have the highest chance that there is a strike, electric issues, mechanical issues, accidents, or construction on the railway that will make you wait for 30 minutes to 1 hour for an announcement (or someone nice enough) to explain you it's no use to wait for the train. I advice you to take a bus or a taxi.
For taxi, if you are not used to it, take « Taxi Bleu » or « G7 » to be sure to have a real taxi. Sometimes, there are fake taxi and if they don't steal your belongings, they will charge you extra-fee. And I don't speak about taxi driver who will pretend not to know the way to go where you plan to go, because it's not long enough. There are some drivers who might say: « I'm sorry, I don't know where your place is, please ask someone else ». They know, they should know, and they have a navigation system. But there are few taxi driver who accept to do small drives which doesn't make them earn much money.
If you are going to your hotel with public transport, you might go through several station of RER or metro. You will hate Paris and french from the bottom of your heart carrying you luggage yourself in the stairs because there are no escalator or elevator, or those really helpful devices are out-of-order. If you ever thought about a subscription for a fitness club, in Paris, you don't need it, just practice the metro and RER, and it will be a much more difficult training. I, myself, want to curse the Paris mayor and governement all the time, and all the people responsible for the chaos of the escalator that are not existing or out-of-order 350 days per year.
Once in your hotel, you feel like you are safe and holidays can start happily… So after a rest you start to go out to visit famous places. Beware of those persons who start to speak to you in english. In France, someone speaking in english and freely approaching you, is not french, and has no good intention. In general, it's the way gipsy from East-Europa, or thieves from Africa, or North Africa, start to trick tourists. While you stop and speak to him, their friends come on your back to steal everything you can have with you. And do you think it's rare and unusual… It has happened each time I was guiding my friends. I spend my time saying « don't answer to them », « they are thieves, ignore them ». The worst is, you feel like politicians and peoples responsible for this city should do something against it… First nothing is done at all, as if, the mayor or the governement support them and encourage them to continue. And after 10 years, I can say that I see the situation getting worse and worse.
Quickly you might want to see Paris famous places. You might want to buy a weekly ticket (you can go wherever in Paris or around Paris during one whole week, whatever the travel you do, for a cheap price. Will an employee of SNCF or RATP tell you about that ticket? If you have the chance to speak with someone understanding english, and speaking english, you won't have the chance to be suggested this king of subscription. Employee won't bother themself to help a tourist. In France and in Paris, if you don't help yourself alone, nobody will be of any help. Here, people hate tourists. (people here hate almost everything, so…)
So now, you paid for expensive ticket (because nobody has ever explained you that cheap subscriptions exist: daily subscription, or weekly subscription, or tourist pass) and you go to Eiffel Tower and Palais Chaillot. You have to get rid of all the gang of african dealer who will harass and try to to sell you chinese copy of souvenirs. An advice, if they recognize with your accent that you are really a tourist, they might not be so friendly with you and become really persistent. So whether you ignore them (best solution, you don't need to speak), whether with a smile you say « non merci » with a movement of your head without stopping. If you want souvenirs it's better to go to an official souvenir shop. If you think those dealers are cheaper, while doing business with them, they might force your hand to buy more.
When you take some metro, if you survived either to the horrible smell at almost every station or to the disgusting view of those dirts from unbelievable colors hanging on the walls or on the ceiling, then you have to face the almighty power of RATP. You wait for a metro that doesn't come, no announcement is done to tell you that there is a problem. The metro are cancelled without any warning. It's like that even for french people. If there is an announcement, it will be in french. So try to find out someone nice enough to explain you everything.
You can have very funny moment. For example you enter into a metro or RER, which has two directions (it forks at one station). You made sure that this metro goes to the direction you want and not to the other branch of the fork. But while you are in it, the direction changed and without any warning, and you find yourself in a place you don't know anything about. It's a major problem when it's the last RER or metro, and you have no way to go back  from the first place.
Everywhere you go, you find people from Africa, East-Europa, India, trying to trick you, selling you forbidden things. And if you think those people are real thieves… just go to a bar of a famous place, or in a restaurant of a famous place. You will see what a legal thief really is. 4 euros for a coffee, 30 euros for a small plate of spaghettis, etc.
And if the bartender, the waiter see in you a foreigner easy to trick, they might charge you with extra-fee. You ate salada, and drink a glasse of wine. It shouldn't be more than 20 euros. If you are asked to pay more, ask for the menu to verify the price. It happens sometime that they think foreigners have a lot of money when they come to France, and they won't say anything paying 10 times more than the usual price. And if the tourists find it expensive and try to complain, because foreigners usually don't speak french, they can be easily manipulated to stop complaining, to pay and go away. In that case, don't bother speaking with waiters of bartender, take the bill as a proof, and call the police at once.
If you have problem to walk or you are with people who have difficulties to walk, forget already about devices which are not bus or train. The Funicular railway to go to Montmartre is often under repair, or out-of-order. You have to use the stairs. In Paris, you need good legs and to be healthy. If you can not really move yourself, you will be stuck with bus-tour. If you have a wheel-chair, every tourist spot should be accessible. Should be! In Paris « should be » means « NOT ». Or the elevator… are like all the time, under repair or out-of-order.
If you are old, or have blader issue, or you are with old people… or if you have simply enjoyed a few beer, your might need to go often to toilets. Public toilets in Paris… just forget it! Whether you won't find them, or they simply don't exists where your are… whether it is so dirty that you prefer not going there to avoid thrush and STD at the same time. And if you ever find some clean public toilet (by chance), you might have to queue for hours before having your turn. In general, public toilets are not free in Paris!!!! You have to pay for it… even if they are so dirty that it's impossible for you to enter wihout throwing up. So every time you want to go to toilet, you have to go to a bar, ordering something, and go to toilets. Because, in general, bars don't allow people to use their toilets if they are not clients (mean they have not ordered something). In Paris, no toilet! If you come from Tokyo, where you can find clean and free toilet everywhere, you might be deeply shocked.
Now you saw many of the famous place of Paris, you avoided the pickpocket in the queue of museum, and you can finally ready to go for  shopping. As soon as you go out of a shop with the bag on which the logo of the shop is printed you become a target for scum. If you are a women, even if  in the company of other women, even in daylight,  they will attack you, hit you, punch you, kick you, until they get your money. If you ever complain to the police, they won't be of any help for you. Policemen are recruited with the level of an exam you can have at 17 years old in high school. So, forget about having them speaking english. You better go to your embassy to ask for help. You won't get anything from french. And french people are so used to see people being attacked, violented or raped that they won't do anything to help. And policemen are the worst, because they feel like a robbery or being attacked, is nothing, because at least you are alive. They see so many things worst than a small mugging, that they won't be of any help. And the governement of France don't do anything against it. Since 10 years, it's getting worse and worse. Safe place becoming unsafe. Small criminality is being emphasized. Scum Teenager go as far as stabbing people with knife. Paris is not under civil riot, but safe place in the past, are not anymore.
So when you go to Paris… be prepared not to like it! Forget the dreams, movies, tv show, singer give you. Even I, feel like Paris is a beautiful town and that it would be nice to live in… when I see movies and advertisement. But to say the truth, Paris is the worst town you can ever visit in France. People are so unfriendly, RATP and SNCF (the two only public transport companies) are working so badly that it's a real mess to find your way!
Don't spend your money in France, or in Paris, you don't deserve the disappointment you will feel there. Tourism companies, movies, tv shows, give a ideal vision of Paris, and of France that don't exists.
After 10 years living near Paris and working in Paris, I feel like we are going backward to the middle age. Maybe in a few year, the bus, metro and RER will be pulled by horses!
One of the favourite sentence out of the mouth of a french, could he got money from tourism or not is: « I hate tourists ».
Once again, when I go to USA, Germany, Hungary, Japan, I feel so at ease, and so friendly welcomed that I feel so ashamed about how tourists are considered in France. And when I guide my friends in Paris, I feel like I'm not a guide but a bodyguard. I fight with taxi drivers who want to charge extra-fee, I fight with waiters who don't behave well or friendly, I fight with the employee of RATP or SNCF. I spend time and energy to tell people that they are so unfriendly, that they are at the limit to insult people.
When I go to a bar or a restaurant in USA, Germany, Japan, Hungary, waiters, bartenders, cooks, are smiling, they tell me « welcome », « how are you », « please », « thank you », « have a nice day », « come back soon », « enjoy your meal ». In France, in french bar or restaurant, if you get a smile, it's quite rare, people hardly tell you nice things. You feel like they are doing a favour to you, to let you enter into their place and have a meal or a drink.
In the places I went to USA, Germany, Japan, people were warm, friendly, welcoming. When I had a problem if they didn't come to me spontaneously, and offer to help, I ask and the person stay with me until problem is over. They guide me while staying with me until I found my way, or the go along with me to someone who can help better. And that happens in big cities, in megalopolis. Try to ask for help in Paris.
Tourists are truely not welcome in Paris and in France!!!
Shame on us french people! I'm so ashamed to be called a french. I'm so ashamed to be introduce as a french. I'm so ashamed to be french when I see how cold, how horrible people are with foreigners.
What my friend faced in Paris, I have NEVER NEVER NEVER faced it anywhere else in the country I visited!!!! And what they have faced in Paris… I, who is unfortunatly french, face it also every day!!!
Once again: don't come to France, don't come to Paris. Your dreams will be changed into nightmares and you might experience the worse things of your life!
Never forget that what you see in movies about Paris, what you see in advertisements from Paris is just lies, everything is fake. Life in Paris is not what you will see. Romantism in Paris is rotten by the hateful and unfriendly behaviour of french people towards foreigners. Beautiful places are covered with dirts, and vacation in Paris become quickly a nightmare for those who don't speak french fluently.
Believe it or not, but foreigners who come to Paris are so unwelcomed, and become so depressed, that it is recognized as mental disease called « Paris Syndrome »: http://en.wikipedia.org/wiki/Paris_syndrome
But if you are strong, you are not easy, and you can fight back even without speaking french, and you are able to make the person who look down on you cry for his mum, than, you can fight back in Paris, and this link is for you: http://www.virtualtourist.com/travel/Europe/France/Ile_de_France/Paris-99080/Tourist_Traps-Paris-TG-C-1.html
And if you ever think that it's specific to Paris? I lived in Metz, Nancy, Strasbourg spend some month in Montpellier, Marseille, Lyon, Toulouse, Bordeaux, Lille, Renne, Rouen, Dijon, Besançon… everywhere is the same! Majority of cold, unfriendly people, not many willing to help you. As a french person, I can say that nice people are a minority. If you ever meet one, cherish him as if it is one over a million.
As far as I remember, I have never met anyone who was satisfied from his trip to France. And since I start to live there 10 years ago, I've never met anyone who was feeling happy and had good memories from a trip in Paris. All I heard, all I experienced was only bad things, and bas stories, and things I'm really ashamed of…
Again, I can't welcome anyone now, because I feel so ashamed, so guilty about the bad experience my friends had when visiting me in Paris. And I hate people there to be as they are, and being so bad with tourists, with foreigners.
For you my japanese friends: https://www.shinryu.fr/5979-c-est-normal-c-est-la-france.html
A little story that happened to me: one hellish week in Paris ==> https://www.shinryu.fr/6295-sncf-ratp-such-a-pain.html
---
 Aujourd'hui encore, et comme une ou deux fois par an, j'ai accueillis des amis étrangers et leur ai servi de guide à Paris. Encore cette fois il y a eu des problèmes qui me confortent dans l'idée que Paris est tout sauf accueillante. En fait, Paris déteste les touristes et ne s'intéresse qu'à leur argent. Quand on parle anglais comme une vache espagnole, comment voulez vous qu'on puisse accueillir un étranger en visite dans de bonnes conditions. On a les touristes qu'on mérite. Pourquoi les français se plaignent du comportement des touristes, lors que ces mêmes touristes quand ils se rendent ailleurs, ne se comportent pas de la façon dont se plaignent les français?
J'ai été aux USA, au Japon, en Allemagne, en Hongrie, et j'ai toujours été accueillis d'une façon telle que je n'oublierai jamais à tel point ce fut un moment de joie et de plaisirs infinis. Lorsqu'il m'a été donné l'occasion de rendre la pareille, j'aurais suspendus chaque employé SNCF/RATP au pilori, j'aurais éventré les garçons de café, les barmans, les serveurs, les patrons de boutiques de souvenirs, chaque passant. Tous ces gens, je supporte leur mauvais humeur, leur mauvais accueil, leur habituelle soupe à la grimace. Mais quand ils deviennent une vitrine pour les étrangers, ça ne passe plus. On ne peut pas se permettre de pourrir les vacances d'un touriste comme on pourri la journée des parisiens. Les gens, ça se respectent!!!
Je n'ai qu'une chose à dire, ami touriste: ne viens pas en France, be viens pas à Paris. Ce pays ne t'aime pas! Et si tu y tiens vraiment (car il y a des coins sympas), ne vient pas à Paris, cette ville déteste les touristes!
J'ai l'habitude de l'absence de toilettes publiques (ou tellement sales qu'on ne peut pas y entrer), des transports en communs qui ne fonctionnent jamais, des escaliers mécaniques et ascenseurs en panne, de devoir faire pipi derrière un arbre, des serveurs pas sympas pour un sous, des vendeurs et responsables de magasins sympathiques comme des portes de prison, de l'absence de communication, des agressions, des gang de vendeurs africains de copies de souvenirs,  ou de se faire donner de mauvaises informations (je me suis déjà retrouvé à Mantes-La-Jolie alors que j'étais dans un train pour Cergy)… Mais pour un touriste, ce qu'il va voir et vivre, c'est la vitrine de la France. Et au final, cela donne une idée de produit bien sale.
Aujourd'hui j'ai servi de guide à des amis américains, j'ai eu honte d'être français. Ils ont 65 ans, ont des problèmes pour se mouvoir, et se déplacer. S'il y avait des escalier mécaniques, ils ne fonctionnaient pas. Le funiculaire de Montmartre? Hors service! RER  et métro, travaux, incidents techniques et électriques: supprimés. Toilettes publiques mêmes payantes: absentes ou tellement écoeurantes que j'en avais la nausée. Sympathie des serveurs, et vendeurs… j'ai dû me prendre la tête avec le patron du café et le gérant du magasin pour leur expliquer qu'avec leur attitude à la con, ils se tiraient une balle dans le pied, car ils ne vivent que du tourisme, mais ils s'en foutent, ils ne sont qu'employés, quoi qu'il arrive ils ont leur salaire. D'ailleurs n'allez dans aucune boutique de souvenirs de Montmartre… Déjà elles ne vendent que des copies chinoises d'oeuvres, mais en plus les vendeurs ET vendeuses sont d'une amabilité, à faire peur.
Et je ne parle pas des conducteurs de taxi, il faut distinguer les vrais taxi des faux, et les arnaqueurs des plus sérieux. Et nombreux conducteurs de taxi prétendent ne pas connaitre un endroit quand la course n'est pas intéressante. No comment!
Et cerise sur le gateau… on m'a traité de « connard » parce que… je souriais!!!!!
Paris c'est une ville de merde, on n'y vit pas… on y travaille… mais on ne peut pas y vivre!
Vous avez déjà été convoqué dans un hôtel de police pour aller chercher un ami étranger, en tourisme à Paris qui s'est fait défoncer par de la racaille et doit faire une déposition devant un policier complètement largué par la langue anglaise, et c'est vous qu'on appelle? Il y a un gros problème avec ce pays, et à Paris, et non seulement la population en fait les frais, mais les touristes également, et pour eux c'est pire, car ils ont une image promu par les agences de tourisme, les films, tellement belle que moi-même j'aimerais vivre à Paris en regardant ces films et spot publicitaires! Mais quand j'y suis, je déprime tellement la vision idyllique devient un véritable cauchemar.
Amis touriste, ne viens pas en France, ne viens pas à Paris!
Sinon tu risques de ressentir les effets d'une maladie mentale, provoquée par le comportement des français et l'absence de service, appelée « Syndrome de Paris »: http://fr.wikipedia.org/wiki/Syndrome_de_Paris
Si vous pensez que c'est spécifique à Paris? J'ai habité Metz, Nancy, Meaux, Strasbourg, j'ai passé des mois à Montpellier, Dijon, Toulouse, Bordeaux, Lille, Renne, Rouen. Et c'est kif-kif bourricot!!!! Si vous rencontrez quelqu'un de sympa, sachez que c'est une personne rare, que vous ne rencontrerez pas souvent.
Pour vous mes amis japonais: https://www.shinryu.fr/5979-c-est-normal-c-est-la-france.html
Une petite histoire en anglais d'une semaine d'enfer à travers de laquelle je suis passé: https://www.shinryu.fr/6295-sncf-ratp-such-a-pain.html